Since Canon EOS 6D's birth, the world of Canon began a fierce battle between two sides: the "old men" who supported 5D Mark II, and the "modern boys" who supported Canon EOS 6D. This fight is really intense initially, and then gradually finalized, with the balance tilted a little bit of Canon EOS 6D!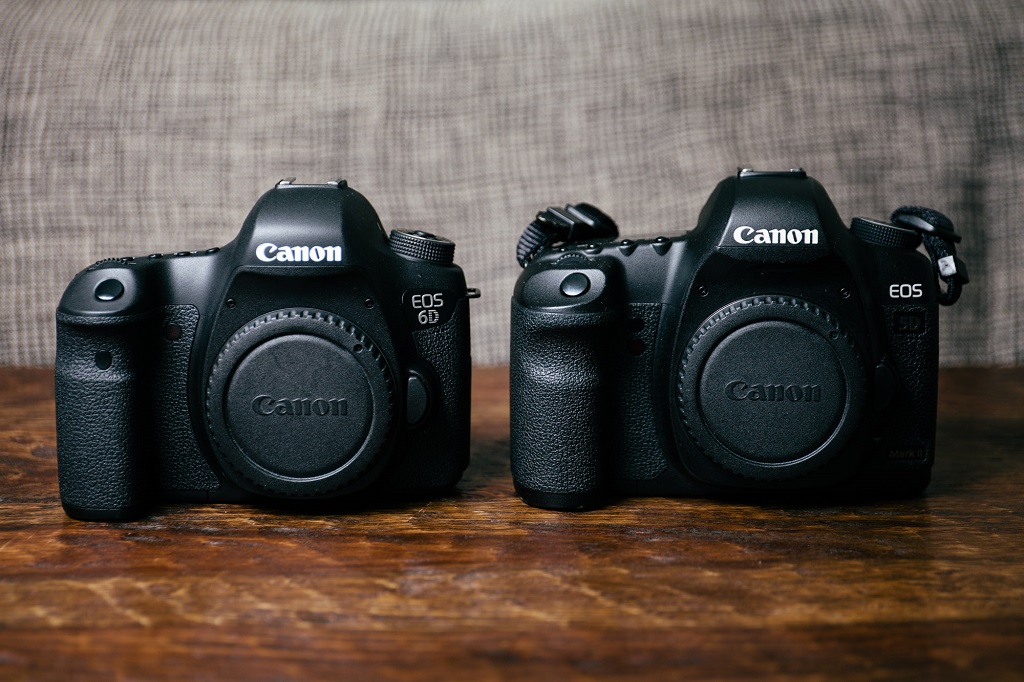 Of course, we must confirm that no camera produres more beautiful photos than the other. The two are almost completely identical in picture quality. We will consider many different factors, not only in terms of image quality.
Shooting in bright light with an ideal setup -
draw
In this case, both Canon EOS 6D and 5D Mark II offer pictures equally well. And the manipulations with both camera are very similar. There is not much difference between the two. You can use both 6D and 5D Mark II to create the stunning beautiful works. 
In case of pointing out one bit of difference, the Canon EOS 6D may have vibrant colors, while the 5D Mark II offers realistic colors. But this point is completely negligible.
Shooting in low light conditions -
Winner: Canon EOS 6D
5D Mark II - EF24-105mm f/3.5-5.6 IS STM, night scene, hand hold
6D - EF24-105mm f/3.5-5.6 IS STM. ISO 1600, 1/6, f/3.5, Sharp images, no vibration and no noise
In this case, 6D is the winner. With ISO 1600, 5D Mark II's noise becomes significant. While 6D with ISO 5000, the pictures are still very smooth. 5D Mark II has ISO maximum 6400. Meanwhile Duytom tested 6D in evening with sport shooting, ISO was 12800, and the images still very great.
Sports, high speed shooting -
Winner: Canon EOS 6D
Sport photographs taken by 5D Mark II in the afternoon with bright light condition
Canon 6D, ISO 5000, speed 1/400, f/2.8, at 7:30 pm. We can see that 6D has the great ability to capture low light condition. 
6D has separate sports mode. Simply select this mode, and all you have to do are shooting. 6D automatically calculate everything: ISO, shutter speed, aperture ... and the camera does this so well! Images are bright, sharp and smooth. 5D Mark II is the opposite. You must have enough photography knowledge to be able to take sport photos with the 5D Mark II. Nightmares occur when shooting a match in the dusk or night. You will have to adjust half of the camera for one photo. Probably, if it's too dark, you CAN NOT use 5D Mark II to shoot anymore. But 6D still can, with the ISO up to 25600.
About the frame / sec, 5D Mark II is 3.9, 6D is 4.5, both are slow, even compared to the 50D or 7D. About Auto focus system (AI Servo), there is no clear differences between the two cameras.
User Support -
Winner: Canon EOS 6D
Born five years later (since 5D Mark II's debut), 6D has many advantages. It uses DIGIC V, with very clever embeded algorithms. The preset modes are Sport, HDR, Night Hand Held Scene ... and they are all useful for newbies. Even experienced users, the 6D was still very supportive. 6D helps users to focus on images rather than sitting there and setting.
With the 5D Mark II, there is a high chance that newbie take bad photos because 5D Mark II requires certain knowledge before use. There is no free meal, users have to spend time to get familiar..
Ergonomic -
Draw
5D Mark II is bigger than 6D, creating a sense of certainty, beauty and professional. However 6D feels more modern and high-tech.
Suggestion
With the same price, Canon EOS 6D is a better choice than the 5D Mark II. Furthermore, it's the newer camera so that users don't have to worry about repairing like 5D Mark II.
For new photographers, Canon EOS 6D is extremely supportive
With experienced users, there isn't much difference between 6D and 5D Mark II   
---
Comment
{fcomment}